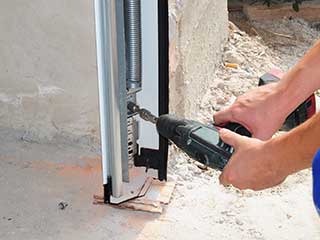 A garage door is made up of many parts that all come together to make the door operate correctly. Some of the repairs that you may encounter during the life span of your garage door may include cable and track repairs or realignment, dealing with broken springs, replacing worn weather-stripping and more. Our local company specializes in the repair and installation of garage doors as well as their associated parts. All our professionals are well trained and available to complete any repair job you require quickly and effectively.
All Makes & Brands
Our full range of repair services covers automatic systems of all makes and brands. There is no problem that we cannot resolve, from fixing decayed panels, failed openers and bent tracks to replacing snapped cables and broken springs, we will do everything necessary to restore the optimal operation and safety of your system.
Emergency Repair Services
Our emergency service is always at hand for dealing with urgent issues that cannot be delayed from broken spring replacement to bent track repair. We understand how problematic it can be when your door simply will not function, which is why we'll prioritize fixing the issue so that you can get back to your important daily routine.
Opener not Functioning Properly
The worst part about a garage door is when some part of it breaks unexpectedly, leaving you without a functioning system for the time-being. If your door simply stops responding, usually this is down to a problem with the opener. Luckily for you, our experts can take care of this, whether the issue is being caused by a broken motor gear or a fried circuit board.
Worn or Broken Cable & Tracks
Tracks are an important part of your system and if they are damaged this may completely stop your door from working properly. Damage to tracks most commonly comes from natural damage over time. Whether your tracks need to be realigned, your cables have completely come off the track, or need to be replaced, we can help.
Replacement of Door Parts
In addition to replacing all types and ranges of door, we can also repair and replace panels, openers, springs and any other components as needed by your door system. We will ensure that any new installations are completed to a high standard and that any new parts fit the components you already have in place.
If you're in need of professional services, just contact our experts at Garage Door Repair Rancho Cordova today – we'll be happy to explain how we can help your particular situation.
Our team can also take care of:
Garage Door Remote Clickers
Belt Drive Garage Door Openers
X Torsion Spring Replacement
Liftmaster Chain Drive Lubrication